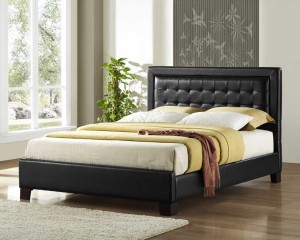 Platform beds are perhaps the ultimate representation of efficient design.
They contain only what is necessary and nothing more.
While most are contemporary, some furniture manufacturers have  managed to incorporate softer, more traditional design elements into the characteristic statement headboard.
Platform beds work well when the goal is to create an airy, open space.
Their low profile also makes them ideal for making smaller bedrooms appear larger because they don't appear to take up as much space.
The Landon Platform Bed by Homelegance is upholstered in a dark brown bi-cast vinyl (for more on bi-cast vinyl, see Leather: A Breakdown of Industry Terms).
The tufted headboard adds to the bed's sophisticated feel by giving the sense of fine tailoring (for more on tufted furniture, see Tuft: Defined).
The clean lines of beds like the Landon Platform Bed by Homelegance creates a bit of a blank slate for bedding and other decor in the room to really stand out and shine.
The Landon Platform Bed is available in sizes ranging from full to King (both Standard and California).
You work hard and you deserve to treat yourself to a great night's rest, so you might as well look good doing it. Go ahead, put yourself on a platform.