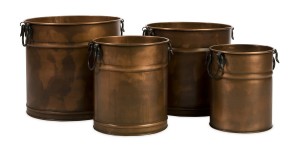 Welcome to the third installment of our series on upgrading the exterior of your home. Preferably without spending an arm and a leg or devoting your entire week to the project.
The first 'Amp Up Your Curb Appeal' showed how updating the hardware, making the front door a focal point and creating symmetry can update the look of your home.
'Amp Up Your Curb Appeal – Part 2' covered the effect that pathway lighting and well-maintained flower beds can have.
Following are a few more ways to enhance your home's facade:
Window Boxes
Hanging window boxes filled with blooming flowers adds colors and a sense of life to your home. However, it's not only the passersby that get to benefit from this addition. Instead of a view of the street, you too get to enjoy the view of the plants every time you look out of the window.
Add or Re-Paint the Shutters
Adding shutters creates a sense of warmth, as they reflect a period and style of house typically seen in quieter neighborhoods with tree-lined streets. If shutters fit in with the design of your home, install ones that have been painted with a color that will compliment the color of the home.
Container Gardens
Planters filled with green foliage makes a fitting addition to a porch. They can also make up for a home that doesn't have much landscaping in the front. Container gardens filled with low-maintenance plants are also ideal for those without the "green thumb", as they're much smaller and easier to maintain than full-scale flower beds.