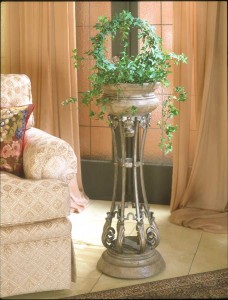 As with many French words, the word jardiniere has multiple meanings one has absolutely nothing to do with the other.
For the curious among you, the term jardiniere can refer to species of beetles, a culinary dish comprised of a mixture of spring vegetables and a female gardener (the literal translation).
In this instance, however, a jardiniere is a planter or urn upon which plants are placed.
Being French in origin, mind you, jardinieres were typically ceramic and very ornamental in nature.
The decorative nature of these planters meant they usually found themselves outdoors in the garden. The height of the planter was designed to literally raised prized flowering plants upon a pedestal.
Jardinieres find themselves useful in contemporary settings as separate herb gardens or pots for green foliage.
Indoor uses have emerged for the jardiniere as well. Consider the Heritage Jardiniere by Butler, which has all of the original ornamental features, but is constructed of cast stone and a solid metal frame for increased durability.
Whatever your intended use for the jardiniere, the one sure thing is that it will enhance its surroundings.