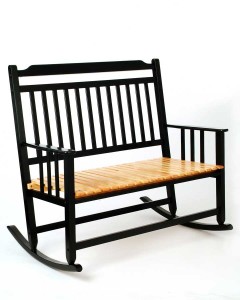 Rocking on the porch during the warmer months is a mainstay in many Southern states and other rural areas.
If it's something you haven't experienced, it's well worth giving it a try.
If you have the opportunity (or the porch) to do so, place it high on your things to do list.
While you're planning this porch-rocking experience, consider some hardware. Particularly the Double Porch and Deck Rocker by Home Styles. It possesses a simple elegance that is often rare in today's furniture designs.
The 'double' in the moniker refers to this rocker's versatility in being able to work both indoors and out.
Fitting in a nursery as well as the porch, it spaciously fits you and your partner during precious moments spent with your child.
The Double Porch and Deck Rocker by Home Styles boasts a black lacquered solid wood frame and a naturally wood finish seat.
The rocker comes in a completely natural finish and white frame with a naturally finished seat.
So whether you're rocking with your partner, friend, child or alone; whether it's in a nursery or outside on a porch, remember that there are attractive, affordable and non-cliche options available.