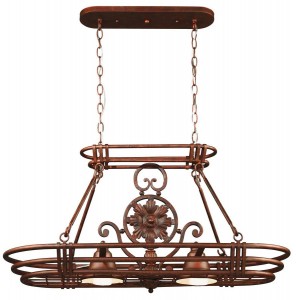 Who doesn't love a 2-for-1 deal? It always gets sweeter when you can land such a deal on big ticket items. 2-for-1 drinks? Sure, that's ok. 2-for-1 furniture? Now we're talking!
Well that's exactly the kind of deal you'd be getting if you invested in a pot-rack and island lighting combo.
The hybrid of storage solutions and kitchen lighting makes it hard to convince yourself that you don't want one. Or need one for that matter.
It's peculiar how the cooler things seem to be, the more we tend to justify having them.
The Dorado Potrack by Kenroy Home adds twice the utility to your home than most furniture pieces. It is beautifully designed with uncluttered parallel lines and an ornate finial in the center.
If the gilded copper finish doesn't capture your heart, consider the Twigs Potrack by Kenroy Home. It's deep bronze finish is capable of matching many kitchen design schemes.
Both potracks by Kenroy Home come with 3 foot chains, 2 light bulb sockets and 8 hooks for hanging pots, colanders and other kitchen tools.
So go ahead, stretch your dollars and justify this amazing 2-for-1 purchase for your home, whether new or remodeled.