Today, we are continuing our series on how to put a winter's spin on your house. Winter is cold but with our decorations, we will arouse the chill spirit of winter while staying cozy and warm inside! Curl up with your blanket and some cocoa and check out these great ideas.
This IMAX CK Winter Scene is great piece of art that truly speaks to the feeling of winter. Hand painted on wood, with a felt backing, this painting from artist Caroline Kinder showcases the thick trunks and spindly branches so commonly seen in forests throughout the winter. The neutral tones of the trees juxtaposed with the silver leaf border elicit feelings of a wintry walk through the woods. This piece would be a great addition to any living room, bathroom, hall or foyer.
Another great piece that sticks with our theme is this Winter Harbour Table Lamp by Elk Lighting. Available in the standard or an LED version, the hammered iron lamp has the elegant shape reminiscent of both the bare branches of a tree mid-winter or the antlers of a peaceful buck walking through the winter snow. The textured lampshade is beige with a dark chocolate liner which really compliments the bronze coloring of the base. Both functional and stylish, it would be a well suited addition to any living or bedroom that is lacking winter's charm.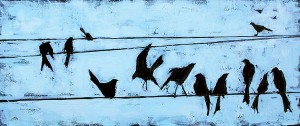 Few images conjure up the feeling of a chilly winter day than that of blackbirds hanging on a telephone wire. This Phone Lines Canvas Painting by Ren-Wil does just that. The juxtaposition of the black birds against a bright azure sky evokes the memories of a squawking flock of blackbirds on a frosty winter's day. The bright coloring of the sky gives this piece a truly wintery feel without giving off the cold, dreary feeling so often associate with the season. Painted on canvas by the artist Braski, this painting would be a great conversation piece in any room of the house.
Be sure to check out part one of this series and stay tuned for part three, coming soon!