The leaves are all dead, frost covers our front yards in the morning and our smoky breath surrounds us with every exhale. Yes, winter is in full swing, at least here on the east coast.  For those of us who love the cold, it can be hard to find decor for your house with a winter theme that isn't also holiday themed. This week, we will have a series on accent and decorative items that focus on winter without being overly festive. From snow, to ice to the cold, if you love winter, then this is the series for you.
The Woodland Vintage Tabletop Pinecone Trees by IMAX is a versatile accent piece perfect for a winter or holiday theme. They are made of polystone and make a great centerpiece for a dining table or a decorative table topper for a coffee, sofa or cocktail table. The glimmering white snow finish is sleek yet subtle and is a great way to add a snowy twist to your table this winter.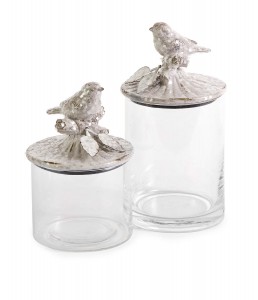 The Woodland Vintage Bird Canisters Set of 2, also by IMAX, is another subtle yet stylish way to put a winter spin on your accent furniture. Glass jars get a lot of summer use but these sparrow adorned canister toppers turn the canisters into the perfect winter treat holder. Food safe and made of glass and polystone, they are great for keeping snacks fresh all winter long! Try filling them with decorative rocks and sand and leaving them on a fireplace mantle or side table for a more decorative look as well.
Kenroy Home's Winter Eight Light Chandelier is a snowstorm inspired lighting piece perfect for creating the illusion of snow right in your living room or foyer. Inspired by the intricate designs of snow flakes, it features chrome curves blended with sparking glass drops evocative of the tranquil look of a snowflake elegantly falling right in your home.
Stay tuned for part two of this series, coming soon!