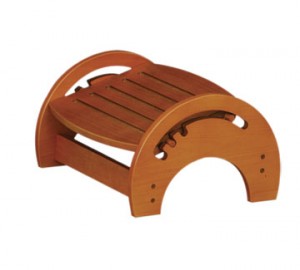 Whether its aspirin for a headache or a much needed piece of chocolate packed in a irresistible wrapper, many of our daily reliefs come in the tiniest of packages.
The Nursing Stool by KidKraft is the little piece of relief for nursing mothers.
As any nursing mother can attest to, the joy of caring for a newborn (or child in general) is unmatched. The physical aspect of the process, however, can be uncomfortable.
The angle of the legs relative to the chair the mother is sitting in will determine whether or not the experience will be a pleasant or straining one. Finding the right angle for the moment can be a real game-changer.
Nursing mothers have been known to prop their feet up on pillows, books and whatever else they could find to provide any inkling of comfort.
To ease the process along, KidKraft has developed their nursing stool with the mother in mind. It is constructed of hardwood and has three positions which lock into place. So when she rests her feet on it, she can rest assured.
The three different locking positions create three dramatically different angles, which is a great feature because the angle she will find the most comfortable will undoubtedly change day-by-day.
The honey-colored finish and round design elements ensures that this stool is not an eye-sore and its compact size means it can be tucked away out of sight when not in use. There's enough clutter in a nursery as is.
If you're soon to be a nursing mother, spare the pillows, books and who knows what else the torture of step-stool duty and give the Nursing Stool by KidKraft a try.