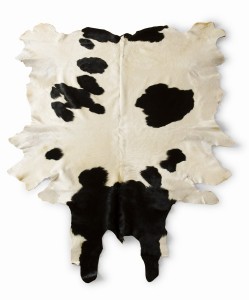 We've probably all seen movies or perhaps been in rooms where animal skins and/or trophy heads adorned the room as decorations or works of art.
The Mustang Rug by Zuo Modern is a responsible way to bring that feel into your home today.
If you're not a fan of this practice, then this rug may be of no interest to you.
There are, however, those who enjoy the look and feel that items like these can provide, but may not be comfortable with the thought of killing exotic animals.
The Mustang Rug by Zuo Modern is made with genuine South American cow hide that has been colored to resemble the hides of Paint horses.
The rugs are available in color-ways ranging from what is pictured as well as black and brown with white spots.
Another advantage of going this route is the expense. Not only is it more ethically responsible, the cow hide option is marginally less-expensive than the actual animal it has been painted to resemble.
If you're looking to add that exotic feel to your home, but aren't exactly the type to trek into a safari or jungle to hunt down the beast, rest easy and let the folks at Zuo Modern handle that for you without leaving you with a guilty conscience.