A Chaise is an upholstered sofa in the shape of a chair that is long enough to support your legs.  They are elegant pieces that can add a new dimension of comfort to your living room.  These unique pieces offer a great place to lounge and relax for you and your guests.  These one-seater chairs offer great back support and will become one of your favorite places to relax!  Check out a few new chaises offered by Coaster Furniture to find one that will look best in your living room.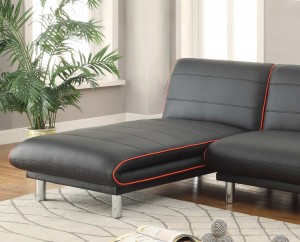 The unique Coaster 500777 Chaise lays flat to be used as a bed and features a contemporary high contrast look with black leatherette upholstery and red welt trim along the edges.  Stitching along the seat and back plus tubular high shine chrome legs create a modern look.  You will love this versatile piece for seating in a living room, bedroom, dorm, or other small living space.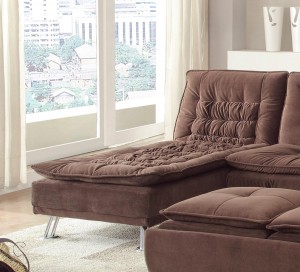 The Coaster Lyell Chaise is great if you don't have the space for a traditional bed, or just need the versatility of a sofa/bed in your living area or guest room.  This plushly furnished, microvelvet chaise lounge futon is a perfect match for your life.  The fold-down futon chaise pairs well with all manner of decor with modern, metal legs and touchable upholstery of easy-care microvelvet.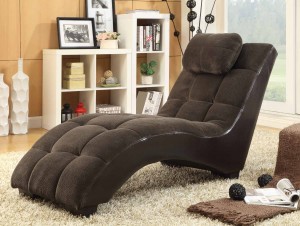 The casual styled Coaster Millie Chaise is perfect for lounging.  The contoured shape and soft, pillow padding provide a comfort worthy of sleep with an attached pillow for head and neck support.  The design is simple and casual with an attractive, curved silhouette.  Use this chaise in casual living rooms or family rooms while, reading books, playing video games or watching tv.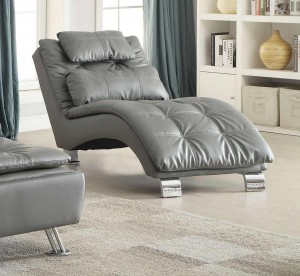 Capitalize on contemporary style with the casual look of the Coaster Dilleston Chaise.  A piece designed for deep padded comfort, this chaise will transform rooms into the future with a modern curving design that features chrome finished legs and a geometric frame.  Pillow-top seating throughout the piece adds extra-plush sitting while a striking vinyl creates a clean-cut look.
This handsome Coaster 550018 Chaise upholstered in black leatherette has built-in speaker and blue-tooth connectivity.  Enjoy your music while lounging in this comfortable Chaise, with side pocket for storage.  This chaise has soft tufting, a headrest, and lumbar pillow.  It has a built-in speaker and bluetooth connectivity, perfect for listening to music.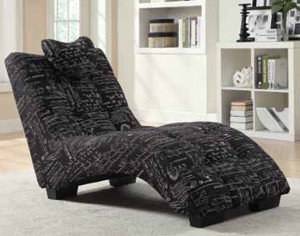 The casual styled Coaster 550106 Chaise is built for relaxed days spent at home with a book or evenings near the fireplace.  Designed to coordinate with casual and contemporary styles, this chaise will create an environment that is open and welcoming.  This updated fainting couch has pillow padding throughout the seat and back with lightly channeled squares of cushioning.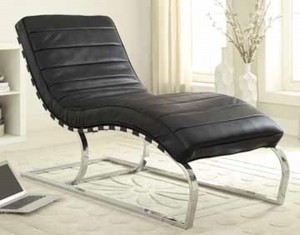 This sleigh shaped Coaster 500015 Chaise is very slick looking with black leatherette upholstery and electroplate metal frame.  This chaise has an electroplate metal frame with black leatherette upholstery.  Relax after a long day in this chaise.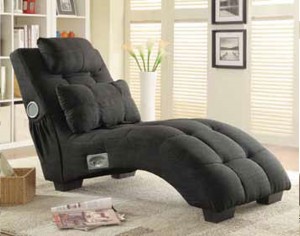 The high-tech  Coaster 550016 Chaise with built-in speakers and blue-tooth connectivity is upholstered in charcoal linen fabric.  This Chaise also includes an accent pillow and a removable headrest.  Combine high-tech with comfort and get the ideal chaise to lay back and relax.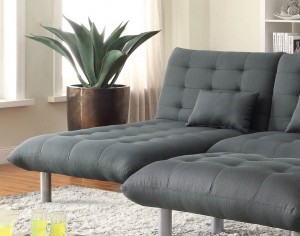 Upholstered in charcoal grey linen-like upholstery, the Coaster Clyde Chaise has thick comfortable padding for ultimate relaxation.  Supported by tubular metal legs this chaise is contemporary in style.  One accent pillow comes standard for added style.