Need a small desk to keep yourself organized in your home and to do small taks at?  Then a Secretary Desk is the perfect match for you.  These desks are typically on the smaller or more narrow size so they don't take up a lot of room.  They tend to feature a drop lid or a roll top which usually offers storage within and makes it convenient to close up the desk when needed.  Below find a few different options by different manufacturers to find the perfect one to work in your home.
The unique Coaster 5301N Secretary Desk blends the classic silhouette of a roll top with the compact shape and storage capacity of a secretary.  Turned post legs anchor each corner and offer a more elegant alternative to bulkier pedestal bases.  A slatted top rolls back to reveal five slots for storing mail and stationery supplies, while a smooth rectangular surface provides ample writing surface.  Antiqued brass finish knobs and a beautiful golden oak finish complete the vintage appeal of this roll top secretary desk.
The Butler 2118024 Plantation Cherry Secretary Desk is made from select solid woods, wood products and choice veneers.  Cherry veneer covers the top, sides, drawer fronts and front panel of drop front.  The writing surface on reverse side of drop front is cherry veneer.  Decorative inlays of maple and walnut veneers, lightly distressed finish, and antique brass hardware are also featured.  Three drawers are featured on the cabinet and two smaller drawers inside.
The Butler 2126024 Plantation Cherry Secretary is made from select solid woods, wood products and choice veneers.  Cherry veneer covers the top and sides as well as the drop front writing surface.  The drawer fronts feature cherry veneer cross grain borders and an inset border inlay of maple veneer is featured on drop front.  Five drawers and two smaller drawers behind the drop front all feature antique brass finished hardware.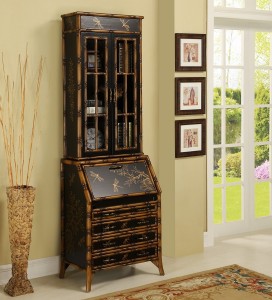 The Coast to Coast 67521 Secretary Desk has a style all its own.  Gold accents of plants and dragonflies along with bamboo styled trim provide unique detail to the cashiers black finish.  At the top, two glass paned doors open to an interior with shelves.  A drop lid reveals a desk area with a shelf for easy use and access.  There is a cable outlet perfect for a laptop station or other electronics.  Four drawers below offer even more storage.