Summertime is in full swing, which means it's the season for barbecues, pool parties and other fun outdoor activities. Here at Homelement, we have a huge range of brands and items to fit your backyard entertainment and decorating needs. One of our most popular brands is Rustic Cedar.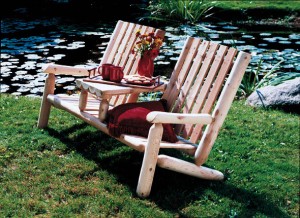 Rustic Cedar is an all natural, handcrafted furniture company based out of Canada. They specialize in sturdy yet stylish cedar furniture and are very popular. Cedar is naturally resistant to decay, insect, and weather damage which makes it a great addition to any backyard. One of their most popular items is the Cedar Looks Garden Tea Set. This innovative piece of furniture features two sleek wooden chairs connected by a built in table. The table is the perfect size to serve drinks and snacks to a guest while relaxing in the chairs and enjoying your surroundings.
Another great item offered from Rustic Cedar is their Cedar Looks Planter Box. Whether you've got a green thumb or a brown thumb, this piece is sure to make your garden shine! This 21' by 21' box is also made of cedar and does a great job displaying colorful plants and flowers in any garden. You can also purchase an additional planter bench to turn the planter boxes from a garden display into seating area.  Situate the bench between the two planters, have a seat and enjoy the gorgeous garden views  style!
Summer is the perfect time to invite over family and friends and barbecue the day away. Rustic Cedar has many different options for all of your outdoor dining set needs. Whether you're interested in a more traditional wooden picnic table, like their Cedar Looks Park Style Picnic Table or a more modern look, like their Cedar Looks Round Umbrella Table, Rustic Cedar has it all.   Homelement offers a wide range of Rustic Cedar products at great prices. Check out what we have to offer and start turning your backyard into the envy of the neighborhood today!