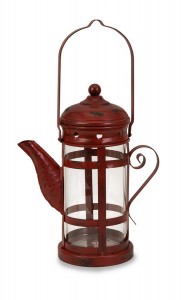 Tea houses have always been known as a place for socializing. Turn your house into your very own tea house and start socialize in style! Decorating a room in your house with a tea theme is a cute and creative idea and it's possible to do so without breaking your budget. With the addition of just a couple pieces, you could have your very own tea room in no time!
               For traditional tea drinkers out there, Homelement.com offers a diverse selection of tea tables. One of our most popular tea tables is the Plantation Cherry Tea Server by Butler. This solid wood table has a cherry finish and features antique brass finished gallery and casters that gives it an authentic antique feel. Place your favorite tea set on top as a great extra decorative touch.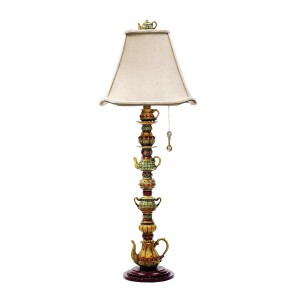 Perhaps, however, you are a more modern minded tea drinker. In this case, we have the perfect lamp for you. Elk Lighting's Tea Service Candlestick Table Lamp is simply a must have in the living room, bedroom or dining room of any tea connoisseur. The stacked tea pots in a unique and eye pleasing color scheme is sure to appeal to even the coffee drinkers out there. The composite lamp has an immense amount of detail on it, as each tea pot in the stack is slightly different. The final finishing touch is the pull switch, which features a cute little spoon. It's the perfect detail to fully pull the piece together.
For those of us not ready to fully commit to the tea theme, but would still like to add a little tea flair into their living place, the Red Teapot Lantern by IMAX is just right. The tin light piece is painted red and has a weathered look to it, giving it an almost rustic feel. Place it on a table as a centerpiece and use it strictly for decorative purposes or throw a candle in and make the tea pot glow.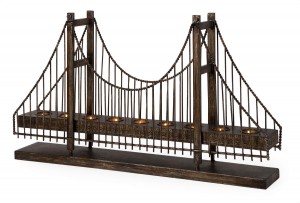 But what if the warm brewed beverage isn't really your cup of tea? We have some tea themed items for you non-tea drinkers as well! IMAX makes this beautiful Suspension Bridge Candle Holder for, you guessed it, tea lights. Made of 100% wrought iron, this antique style candle holder holds up to nine tea lights. Its aged look makes it an appealing addition to any living room and the intricate wire design casts amazing shadows when the candles are lit up.
Scour your local antique shops for some unique tea accessories. Garage sales are also a great place to find a wide range of tea pots and mugs for cheap and easy decorating. Whether you're a tea lover or a coffee lover, this collection of tea inspired pieces make a great addition to any living space.