Here at Homelement Furniture Design, we believe that good quality design doesn't have to always mean it's expensive. There are so many things that can be done for less than $50 that will improve the look and feel of your space. We covered 3 ways in: How to Spend $50 on Design.
We like the idea of getting new designs on a budget so much that we're going to give you four more. Here they are:
Bring in Some Green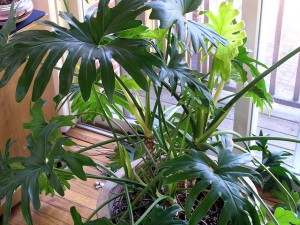 Fortunately, bringing green into your home doesn't have to cost a lot of green.
Incorporating houseplants into your home has many benefits, on both the room's aesthetics and your personal health.
When selecting houseplants however, it's important to do a little background research before simply selecting a plant that you think is pretty.
Although some are beneficial in removing carbon dioxide from the air, others can be poisonous to your pets.
Another helpful aspect of houseplants that aren't common in many other design changes is that you aren't tied into a permanent placement. Potted plants can be moved throughout the home and the relatively low cost of different sizes and styles of planters gives you the flexibility to place plants in many different areas of your home.
Paint Furniture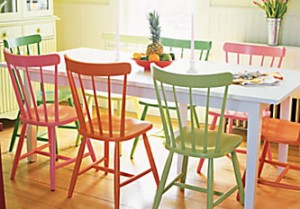 We've covered the fact that painting a wall is one of the best ways to significantly impact the design. As it turns out, painting furniture can have a major impact as well.
Instead of completely replacing furniture, avoid that cost altogether and inject some vibrant elements into your room's design instead.
Try whimsical color schemes for repurposing furniture into children's rooms or more traditional color schemes for common areas.
Color Block It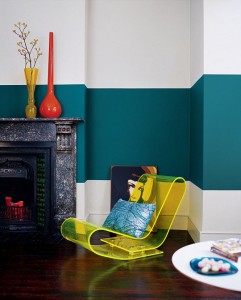 A well-known part of the fashion industry, color blocking is using colors in bold ways; usually directly up against each other. It's not about patterns. It's not about elaborate designs. When color blocking, the focus is on choosing vibrant colors and arranging them in a way where they alone are the star of the show.
Are you into striking, modern design? If so, here are some ways you may want incorporate color blocking into your rooms.
Use this picture as a starting point for inspiration and mask off areas of your home that are lackluster and could use a bit of a spark. To truly have the ("bold impact") that color blocking can provide, this is about the size the accent stripe would have to be.
Any smaller and it could come across as an oddly-placed stripe. The height placement of the colored swatch is no accident either. Notice the top of the stripe rests at about the same recommended heights as paintings and other works of art. This height is recommended because it is about the average person's eye line.
—
Updating the design of your home doesn't always have to be an expensive undertaking. With the right project, a small update can have a significant impact on your home's overall design. We're always on the lookout for affordable design ideas and we love sharing them with you.