We're all balancing so much these days and as a result, our homes and offices can easily become just as cluttered as our lives. The "I'll tend to that later" lasts much longer than we originally intend and before we realize it, things have gotten so bad that we become stressed about it.
Well, don't put it off any longer. We're going to provide you with some tips to help you stay organized this year.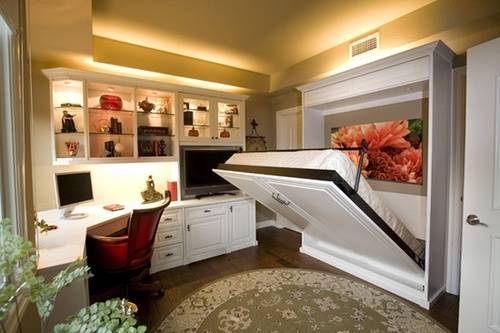 Install Built-Ins Wherever They Will Fit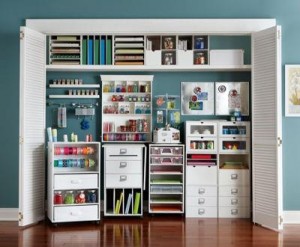 Built-ins are clutter's worst nightmare. One of the main reasons is that, if they're configured to fit your lifestyle, there is literally a place for everything. When that happens, it is truly a beautiful thing.
Check out the beauty for yourself if you still don't believe. If your home isn't as well-organized as that picture, get in line. It's a long one.
The key to getting your home this organized is to first determine your storage needs. If you have a serious knack for arts and crafts or you work from your home, you and your business will have some very distinct storage needs.
Once you determine this, you'll be able to head out to your local home improvement stores and shop your favorite online furniture stores for exactly what you need.
Take Advantage of Wall Space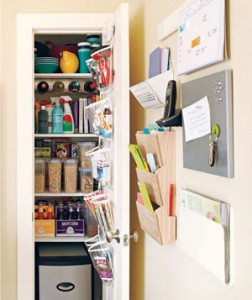 One of the most common reasons people give for allowing their living spaces to become cluttered is that the space is small and there is not a lot of storage space available.
As a result, our countertops quickly become swamped with papers, envelopes and other items that were significant at one point or another.
You may not be able to do anything about the limited counterspace, but we all have walls that we can take advantage of. Just think of them as vertical countertops.
As you can see in this picture, the right accessories placed on the wall can ultimately replace the need for using an kitchen counterspace as the home's hub.
You can keep up with important dates by hanging a desk calendar. A magnetic board can be the perfect place to keep quick notes or other important pieces of information so they won't get lost forever in "the pile". A magazine rack (similar to the ones found in doctor's offices) can be re-purposed as a file folder for keeping the bills organized.
If you're truly tight for space or you just want completely clear countertops, you can even mount the cordless phone handset to the wall. And to think, all of this is possible in about a 4′ x 6′ space.
—
So, there you have it. Even if you have a small living space to work with, you can find space for storage in unexpected areas. It's just about being creative and thinking outside the box.
Hopefully, this collection of tips will be enough to get you started and help you keep things organized throughout the year.