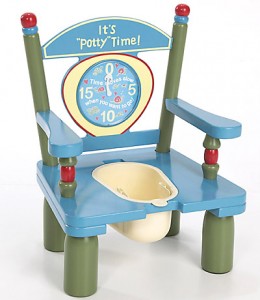 While it is no way a glamorous process, teaching children how to use the toilet is a vital task. Everyone can agree that the sooner they master this, the better.
A problem with successfully completing the process could have a lot to do with the fact that many people use unexciting tubs for their kids to practice with.
Children are visual creatures and benefit from stimulating images to engage their attention.
The It's Pottyin Time Wooden Potty Training Chair by Levels of Discovery is the definition of functional furniture exemplified. It's colorful, playful and interactive. Your daughter would be pleased with the Princess Wooden Potty Training Chair by Levels of Discovery.
However, you may be thinking, "Is a chair with a bucket in the bottom really necessary?"
Initial apprehension is understandable. It's an elaborate chair that is solely used to capture excrement. So, why spring a few extra bucks on a chair that will only be used for a relatively short period of time?
The theory is, the more enticing the chair, the more prone children are to want to use it. The more time they spend on the chair, the higher the odds of success.
In essence, it all comes down to how long you want to keep cleaning up soiled diapers versus flushing a toilet. The choice is ultimately yours.