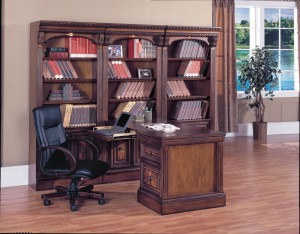 The Parker House Huntington 5 Piece Home Office Set is the perfect traditional set with all the storage you could need.  This library system is full customizable and you can modify the configuration however you choose.  The Huntington Library Wall Collection is designed in traditional English library style and finished in antique vintage pecan.  This wall collection offers the mixed function of entertainment center, home office, or bookcase wall.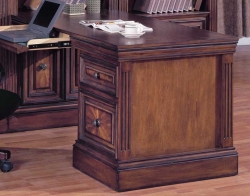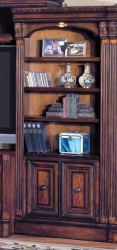 The finish is composed from a multi-step, antique vintage pecan with accent shading and highlights, hand distressing, and medium sheen top coat.  All cabinets are 80″ high and are offered in various widths to allow for semi-custom installations and have locking bolts to connect the cabinets together.  Concealed plugs offer a finished end cabinet or may pop-out to connect cabinets together.  Front levelors adjust from inside the base cabinet and allow for an easy and true installation.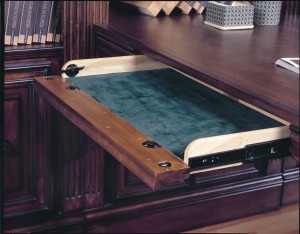 The Wall Desk has a reversable pedestal so the the drawers can face either side and the drop face laptop drawers are provided on both sides.  Labtop connection port is built into the desk top for easy access.  All pieces feature detailed moldings and all bookcases have down lights with touch dimmer to accent the fronts of the displayed items on each shelf.
For more items from the Huntington Collection, click here.  For more Parker House Furniture, click here.