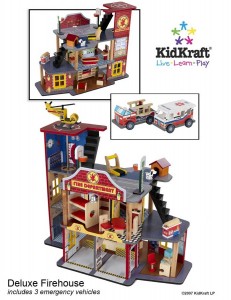 The time has come. Thanksgiving has passed and attention has shifted to holiday shopping. While the season is exciting, the task of shopping for gifts can be a daunting one.
You've probably read the stories and seen the news reports about the notoriously hectic Black Friday. In today's technological age, why put yourself through all of that hassle?
Allow Homelement Furniture Store to assist you with your holiday shopping this year. Perplexed by the suggestion? Don't be.
Homelement has an abundance of toys, games and other items that your young children are sure to enjoy.
Inspire your children's imagination with toys like The Deluxe Fire Rescue Set by KidKraft or  the Pirate Ship Activity Set by by KidKraft for boys. Consider toys like the Pink Retro Kitchen by KidKraft or the Dance Studio by KidKraft for girls.
Religious toys and other games that aid in learning the rituals, like the Celebrate Tzedakah Box by KidKraft are also available.
Why should children be the only ones to benefit from Homelement's vast selection? With a large selection of furniture and other accent pieces that fit in every price range, furniture can make a great housewarming gift for a friend or a fantastic remodeling gift for yourself.