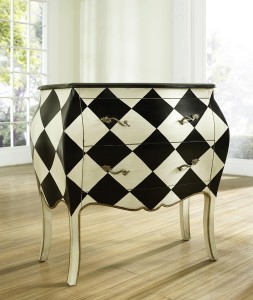 Often written off as dull or boring, the black-and-white color combination can actually produce dramatic results.
This installment of Decorating with Color is going to explore ways to maximize the design impact of these essential colors.
The color black adds sophistication and often serves as a focal point for other elements to be placed around it. Accessories with black in them strengthens any decorating scheme by acting as an outline to offset certain areas.
Pure black-and-white was the preferred design scheme for pure elegance and it still carries that aura today. If converting the foyer into a grand display of elegance is a bit too much to take on at the moment, consider incorporating a pure black-and-white color scheme to a powder room.
Let's face it, it's a place guests will access often. You're going to want someone to appreciate it as much as you do, so why not?
Gold is the perfect accent to black-and-white color schemes. Outfit that powder room with black and white marble along with some gold hardware and it will instantly scream decadence.
As with all color schemes, don't just rely on the purest forms of the colors. Traditional-designed homes can really be softened with ivories, egg shells and other soft whites. On the other hand, contemporary homes do well with greys and charcoals.
Accent pieces like framed photographs with alternate colored matting is a striking way to capture attention using the same two colors.
Experiment. Take chances. In the event you don't like it, change it back. See how you can transform your home using these two basic, but powerful colors.