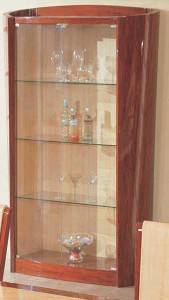 If you're not previously familiar with what a vitrine is, this would be a case for which Shakespeare's 'a rose by any other name' would be fitting. You may have not heard or used the name vitrine, but they are an accent piece that can be found in any number of homes.
These days, vitrines are more commonly referred to as china or curio cabinets.
Technically speaking, a vitrine is a cabinet consisting of (or completely constructed of, in some cases) glass shelves or panels. They are typically used to house the finest of housewares, proudly displaying them for all visitors to see. It takes its name from vitre (French for plate of/plane of glass).
The Gabriella Vetrina China Cabinet by Global Furniture is a very modern take on an antiquated concept of furniture design. It features 3 glass panes which create 4 spacious shelves for you to display as much or as little of your prized possessions as you like.
At almost 7′ high, this cherry and oak vitrine will have no problem grabbing the attention of passerby's so the choice collectibles won't have to. A top-to-bottom glass door ensures nothing will hinder the spotlight you've chosen to place on it's contents.
Vitrines can, and should, be used to house your best china, glass/barware, collection of decorative items, etc. The key is to choose the right vitrine, whether ornate and traditional or clean and contemporary, that will best highlight your treasures and accent your home.