Upscale Boutiques and high end fashion houses have  knack for beautifully arranging items in such a way that even those who aren't fashion-obsessed are tempted to buy. As a result, this look has become highly sought after in home closets.
Don't get discouraged. You don't have to have deep pockets in order to give yourself  beautiful closet.
Organization & Layout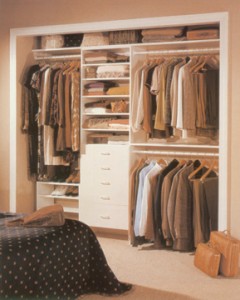 When shopping in upscale boutiques, one thing that immediately stands out is the way items are intentionally laid out to create a flow. You naturally navigate the space in a certain way because it makes sense. You can give your closet that same sense of flow, even if it isn't that large of a space.
For closets that aren't that spacious, try installing two shelving with rods to hang clothes beneath them. Hang one above the other with enough room to hang shirts, jackets, etc. on the top rack and pants, etc. on the bottom rack.
Hang these racks high enough to where shoes can be placed along the wall beneath the pants hanging on the bottom rack. Hats and other items can be stored on the shelf above the top rack.
With an arrangement like this, clothes are logically stored from top to bottom and everything is clearly visible.
Lighting
It almost goes without saying that proper lighting is essential to successful closet design. From a functional standpoint, proper lighting in the closet can prevent you from wearing navy blue to work when you were under the impression it was black. Proper lighting also goes a long way to open up the space and make it feel larger than it is.
Strategically place lighting in areas where the details matter. With battery-powered light sources now readily available, try placing some underneath shelves and in the corners of dark closets.
There's no light like natural light, so if your bedroom didn't come with a large closet, consider converting an unused second bedroom into a closet. It's more of a common solution than you think. Natural light from a bedroom's window will give you a preview of what exactly your clothes will look like when you step outside of the house. The difference between incandescent light and natural light is one of the primary causes of, "I thought this was black".
Custom Solutions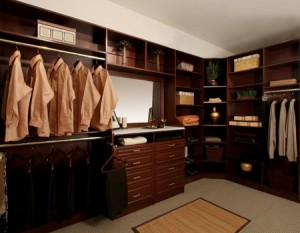 If you decide to go with a custom closet solution, be sure to have a firm budget in mind before consulting with the closet company or the contractor. As they start to show you the myriad of possibilities and options available (and there are a ton), it will be more that tempting to fork over more cash for the upgrades.
Perhaps the most important thing to consider before going custom is to make sure this is the home you plan to live in for the rest of your life (or a very long time). It would be unfortunate not to get the return on your investment if you have to sell your current home and ultimately have to purchase a custom closet solution all over again.
—
You don't have to be extremely well-off financially in order to have a beautiful closet. This is especially true if you're willing to roll up those sleeves and get into DIY mode. With the right materials, color combinations and layout, you can have a closet you can be proud of.