Getting rid of an old piece of furniture? Are you simply replacing it with a new piece of furniture because you jut want something new? Or is it falling apart to the point where it is no longer functional? If it's structurally sound and you're just looking for something new, consider giving that old piece of furniture a new life by giving it a new function.
Here are a few ways you can re-purpose some old furniture.
Armoire to Make Up Station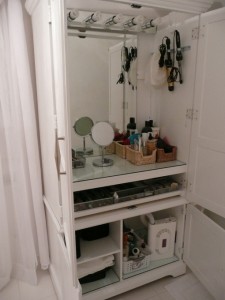 Have you considered replacing an old armoire with a more modern entertainment center?
Before you throw the old armoire out or give it away to a friend, consider using it to solve another common design problem: storing make-up and finding the space to apply it.
With the large number of shelves and varying sizes of nooks makes that old armoire the perfect solution to handle your make-up storage needs with style.
Here's what you'll need to do if this is a project that appeals to you:
Determine if the armoire's current finish fits into the design of the room you'll be placing it in, and if so, does it need to be spruced up or refinished.
If painting (or refinishing) is in order, thoroughly clean the armoire, remove all the hardware, drawers and doors (as this will make the task much easier) and paint it in an open, well-ventilated area. Allow it to dry thoroughly before reassembling it.
Take advantage of the space by applying a key vanity element: a mirror. These can be purchased at a home improvement store (along with the simple screw-in brackets necessary to hang it in place).
Even if the lighting in the room is sufficient, it's always helpful to have task lighting available when it comes to applying makeup and getting yourself together. Give yourself the Hollywood treatment by installing a lighting element inside the armoire, above the mirror. These can also be found at home improvement stores and can be installed by running the wires through a hole you can drill in the back of the armoire.
Rethink Those File Cabinets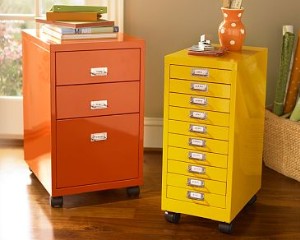 Have a home office filled with those unsightly grey metal file cabinets? Well, you're not alone.
The good news is that they don't have to become permanent eye sores that bring down the overall aesthetic of your office space.
While painting metal presents a unique challenge, it's not that difficult to take on. Refer to "How to Paint Any Surface".
When giving your file cabinets new life, consider using it to bring out the accent colors of the room. This, as you can see pictured here, will give a room that pop that takes it from boring to vibrant.
An easy update will be to purchase castors from a home improvement store  to make the file cabinets easy-to-move (if they didn't already have wheels on them).
—
Try not to be so quick to throw out old pieces of furniture. This list of possible conversions is just the tip of the iceberg. The possibilities of what your old furniture could become is limited only by your imagination. We'll continue to post ideas and you should let us know of any conversions you've done before.