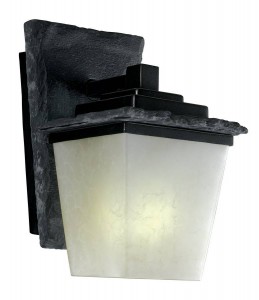 Outdoor lighting can be an integral aspect of the home's design. Whether its emphasis is on pure utility, security or ambiance, outdoor  lighting is essential.
Utility lighting often comes in the form of direct-projection, or lighting that targets a specific region. Think of porch lights and the yellow-bulb bug lights. These are often task-specific and not usually the primary lighting option.
In terms of security, floodlights and other motion-sensor lighting is useful for keeping potential trouble at bay. While not the most aesthetically-appealing, it serves an essential purpose.
When it comes to creating a warm and welcome environment, outdoor lighting has come a mighty long way. The possibilities are virtually limited only by your imagination.
Looking to upgrade your basic outdoor lighting fixtures?
The Flintridge Outdoor Wall Lantern by Kenroy Home is a Mission-styled lantern that effortlessly combines old-world charm and modern concepts. Behind the marbled textured glass is a base that houses energy efficient bulbs.
Or maybe you're looking to transform your outdoor living space. Adjusting the lighting may be all that is necessary to pull it off.
A few common landscape lighting techniques include: path lighting, spotlighting, up-lighting, down-lighting, silhouette lighting, shadow lighting and more.
Shadow lighting is an ideal technique for walled-in or fenced gardens. Projecting a light directly in front of an object like a statue fountain or tree creates a dramatic eye-catching effect. Tip: to increase the throw of the shadow, move the light closer to the object.
Silhouette lighting is when the light is placed directly behind the object (but in front of the wall) to create the illusion of a dark shape, or silhouette.
Down-lighting is a technique in which a light is placed in a tree to create varied results. Lights placed lower in a tree creates romantic path-style lighting while lights placed higher in the tree can create a moon-lit effect.
Today's technological innovations have made it possible to employ any of these strategies with low-voltage, energy-efficient lighting. So, don't hold back. Explore the many options available and recreate your outdoor living space.