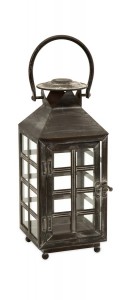 We've explored a few different aspects of outdoor lighting here at Online Furniture Design. Actual lighting techniques were covered in Outdoor Lighting and different ideas to implement were discussed in Outdoor Lighting Ideas,
This time around, we're going to show the do-it-yourselfers a simple project that can be carried out to improve or freshen up outdoor spaces.
So let's get started.
Hand-made Jar Candles
Using wick-putty, fix a wick with a metal wick tab to the bottom of a jar.
Suspend the wick by tying it around a pencil and lay the pencil across the top of the jar.
In a double-boiler, heat some bleached beeswax to 135F degrees. Use a candy thermometer to check. (1 pound of beeswax will fill four or five 8-ounce jars)
When 135F degrees is reached, stir in about 50 drops of oil-based plant essence. Try jasmine, lavender or sandalwood. The amount of oil will depend upon preference and intensity.
Pour the wax into jars. Set jars into a cold-water bath to cool and set. Add additional wax if needed.
If DIY isn't your idea of a good time or you're just pressed for time, opt for battery-operated LED light candles, which are a safe alternative as they stay cool to touch and don't require a watchful eye.