Bassinets help ease parental concerns for newborns by keeping  the infant close to the parents during the night.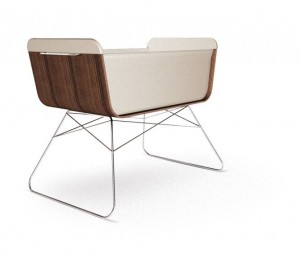 The only problem with bassinets, if ever there was one, is that they can be so unattractively designed. They're usually clunky and traditional pieces that never seem to fit into the grand scheme of things.
Furniture maker, Offi, has created a fantastic, contemporary rendition of this age old element of furniture. Sleek lines and wire framing brings the bassinet into the 21st century.
Is it selfish to feel like a bassinet should compliment the design of your furniture? Of course not. Honestly speaking, it's not like the newborn was a surprise. So plan ahead and find a piece that is universal enough to work in the bedroom as well as the nursery.
If you're expecting a new addition to your family, do the newborn and yourself favor by getting a bassinet that is comfortable for the child and pleasing to the eye (You'll sleep well just knowing what could've been next to you).