The mudroom is one of the most underrated and overlooked areas of the home. At least that usually goes for everyone except the person responsible for cleaning the home. For them, it is no secret how important the mudroom is.
We're going to take it a step further and share some ways to maximize the storage capabilities in the mudroom.
An Entire Room is not Required
What often comes to mind when someone hears the word "mudroom" is an entire room that is dedicated to catching mud, water and other potential messes before they can make their way into your home. After all, "room" is right there in the word.
For many, however, having an entire room dedicated for this purpose isn't very practical. The good news is, having an entire room isn't required.
The first thing you need to do is determine an area of your home that could serve as a mudroom area. A wall, small closet or corner of the hall that can be converted into a nook are all good makeshift solutions.
Function is Everything
When setting up a mudroom in your home, it is important to factor in how your family functions and would ultimately use the space. For example, is the side or back entrance used more often than the front door? For those whose front entrances lead to formal living spaces that are used less often, entering the house through the garage or side door is more common.
The mudroom needs of a family of four greatly differs from that of someone living alone. The same goes for those living in a city apartment versus on a family farm.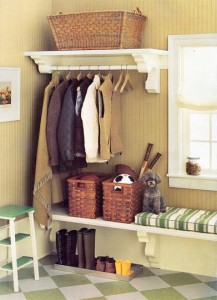 Use a Tray: A durable tray made of thick rubber or metal is a great place to store muddy shoes and boots until they get a chance to dry. Simply hose off the tray whenever necessary to keep it clean.
Have the Option to Rinse Off: Even if you don't work in the garden or you live in an apartment, it's still a good idea to be able to rinse off when needed. Have wet wipes and other towels on hand to wipe off boots and shoes when necessary.
Take a Seat: After a long day of work and dealing with inclement weather, the last thing you want to do is wrestle with getting your rain boots off while trying to maintain your balance and not fall over. Place a bench or short stool in the area to make the process go smoothly.
Help Your Guests: Unfortunately , a lot of people aren't great at taking hints. So, if you want your guests to use your mudroom are, always leave a pair of shoes on the tray so they can see this is where they should place their dirty shoes as well. If the idea of having a shoe tray in the hallway 24/7 doesn't appeal to you, then just remember to place it out when you're having company.
—
With the right storage solutions in place, your mudroom can be so much more than a place to store wet raincoats and muddy boots.