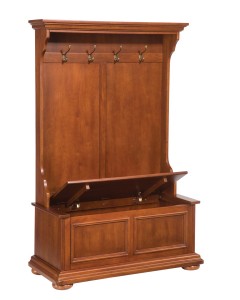 Molding, in this case, is a piece of material used to mask transitions between walls, ceilings and other surfaces. However, molding is often used for decorative purposes as well.
Moldings have been traditionally made with solid wood, but modern advances have made it possible to construct them from plaster, reformed wood and plastic.
Moldings in classical sculpture and architecture were often made of marble and other types of stone.
The two most common types of moldings are plain and sprung. Sprung molding has beveled edges, which allows it to be mounted at an angle between a ceiling and a wall.
While molding may seem to be purely decorative, they're actually a way to apply light and dark shaded areas to an object or structure without having to apply color or physically change the material.
There are over 40 types of molding that are used to create different effects, one of which is dentil molding. See Types of Molding – Dentil for more information on this Roman architecture staple.
The Homestead Hall Tree by Home Styles features crown molding, which is also a popular molding found in homes.
While crown molding at the junction of the ceiling and the wall is what people think of mostly when discussing molding, baseboards are also a form of molding. This base molding conceals the junction of an interior wall and a floor. Pure aesthetics aside, the baseboard also protects the walls from impact and damage.
Chair rails, which is molding placed midway up the wall, are another common form of molding. From a utility aspect, chair rails protect walls from the backs of chairs. However, chair rails provide a midway point to incorporate different colors and textures. For example, a common approach is to wallpaper the upper or lower part of the wall while painting the other a complimentary color.