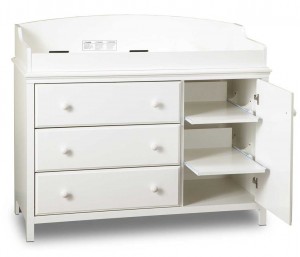 The days of nurseries simply being rooms to change babies and rock them to sleep are far behind us.
Design standards have improved significantly and many nurseries are rooms so well-designed that anyone would be happy to spend time in one.
There are some essential things to consider when outfitting your nursery.
Although the new addition to your family will be receiving a significant amount of your attention and cash, you'll want to spend as much as necessary in order to get the most comfortable gliding chair you can get your hands on.
During those late-night feeding sessions, it's vital to your sanity that you be as comfortable as possible.
If you're going to dedicate a room to be a nursery, the least you can do is try and get the most out of the space. This is especially true for smaller rooms. Items like the Cotton Candy Changing Table by South Shore effectively pair abundant storage with a changing station.
However, this changing station is prepared to grow with you and your family. As the child gets older, the above changing station can easily be removed and the piece transforms into a standard chest.