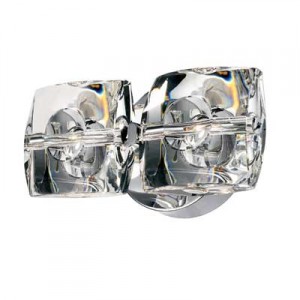 Welcome to the 4th installment of our special series on various lighting solutions and designs.
At this point, we hope you've been made aware that there is a lighting solution that is perfectly suited to your tastes, regardless of how conservative or far out they  may be.
Another point worthy of noting is that great lighting fixtures doesn't automatically translate to spending large amounts of money. Putting a little time and effort into researching all of your options from a number of sources, you can find a great deal on high quality lighting. Homelement Furniture Store is a great place to start that search.
In today's installment, we're going to spotlight a lighting collection that is as eye-catching as it is subtle.
The Ice Cube 2-Light Wall Sconce by ET2 is a part of a collection that is as cool as the object it was influenced by.
This wall sconce, as with the other light fixtures in the collection, provides a clear, unrestricted glow. The "ice cube" bulb covers deflect any direct rays in order to create even light distribution that is anything but distracting.
The collection also includes an 8-Light flush mount fixture, a 1-Light wall mount fixture along with a 9,5 and 3-Light pendant fixture.
This Ice Cube Collection by ET2 is great for contemporary, or even commercial, spaces in which there are other things you would like your visitors to direct their attention to. Hopefully we've inspired you to find the lighting solution that matches your tastes, fits your budget and serves your intended purpose for it.