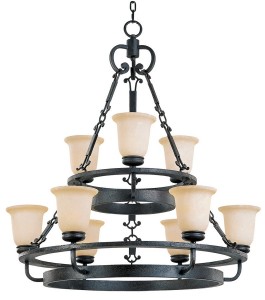 In last week's installment of 'Light the Way', we featured a clean, contemporary floor lamp that provides that extra touch of light when necessary.
Today, however, we're going to shine the light back onto a lighting fixture that likes to be the center of attention.
Chandeliers are bold by nature. Whether they create a feeling of balance with their symmetrical construct or capture your eye with their flamboyant extravagance, chandeliers are designed for commanding your attention, if only for a moment.
The Rhine 9-Light Chandelier by Maxim Lightingis a prime example of modest elegance. It carefully tows the line between too plain and too much in order to find the perfect balance.
This chandelier features heavy forged rings that are strung together by ornate chain links. The chains have been finished in 'Baroque Forge' in order to create a rugged, unpolished look.
This ruggedness is offset by a soft, translucent glass that the manufacturer calls 'Pollen Storm'.
A massive display of simplicity, The Rhine 9-Light Chandelier by Maxim Lighting is 3-feet wide and almost 3 and a half feet tall.
So if you, like many, have been searching for a light fixture that is worth displaying, yet unpretentious and practical, we're here to let you know that there is a happy medium out there.