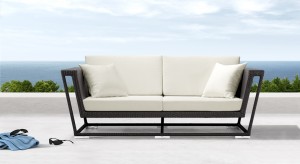 Unfortunately for us adults, summer doesn't automatically mean lengthy summer vacations. Oh, to be a kid again. Right?
Even if we've already enjoyed a summer break, it almost always feel like it's never enough.
Well, with some careful planning and strategic purchases, we can convert our outdoor spaces to mini-getaways.
All without the long lines waiting to be strip searched at the airport or agitated babies kicking and screaming for the entire flight.
The Laguna Sofa by Zuo Modern has a sleek, contemporary design that gives the appearance of floating.
In keeping with Zuo Modern's commitment to quality, this outdoor sofa is constructed of a reinforced aluminum tube frame. A UV-treated synthetic weave covers the frame and the cushions are upholstered in water-resistant covers.
Outdoor sofas like this one beats plastic lawn chairs and actually remind us that spending time outdoors can actually be comfortable.
Depending upon the size of your outdoor space, arranging sofas, armchairs, chaises, benches and coffee tables will create an outdoor living space that is as comfortable as your living room, but with much more fresh air.
Get the most out of the warm weather months while you can and every day can be like a summer vacation