As summertime winds down, and the season of holiday festivities approaches, it's time to begin moving your family dining from outdoor, backyard barbecue settings to an indoor environment.  One of the downsides of this transition is the loss of space, but with Homelement you can find the perfect home dining décor to not only fully utilize your space but give the appearance of a large and grandeur dining setting.
Although you may feel hindered by your modest dining room, you can still create a big statement in a small space, and bring the drama found in large, formal dining rooms to your quaint, Lilliputian room. A few helpful tips to facilitate space maximization are using a table with a butterfly leaf, to allow for varying length dimensions, opting for a counter height table instead of a traditional, formal dining table, using mirrors throughout the room to open up tiny spaces and applying a space saving bench to your dining room décor.
The Homelegance Ohana Dining Collection can seat a large number of people with its butterfly leaf that expands to 78" from the original dimension of 60" length. When hosting a large Thanksgiving meal, it is the perfect choice, seating up to 8 people.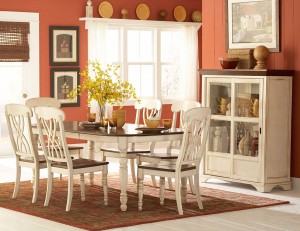 The design of the Homelegance Ohana Dining Collection captures the essence of a casual country home, with its antique white and warm cherry, or antique black and warm cherry finish. Couple this look with symmetrical, decorative items to really enhance the overall look of the room and allow the space to feel controlled and open.
Another smart buy is the Homelegance Daisy Round 54" Dining Collection.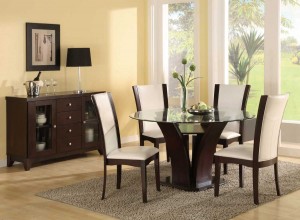 A round table can really open up a smaller space, making it seem larger. Couple this with bold
window treatment patterns and light colored or neutral walls, to really open up the room.
Using a rectangular or square counter height table with a space saving bench can allow you more seating options. Browse the Homelegance Eagleville Dining Collection.
This versatile table with birch veneers features a butterfly leaf for convenient extra surface space. The set includes substantial block table legs, chairs, a 60" bench and server. Counter height tables have a space saving design that more efficiently utilizes the kitchen or dining areas.
A last tip to make your dining space seem larger is the use of reflective surfaces and large art. A mirror can really open up a small space and large scale art, coupled with simple and bright colored window treatments, really helps to reflect light. Try placing a mirror above a table to reflect light colored window draping and tablecloth. Using dark colors will make your room appear smaller, while transparent materials such as glass table tops can really stimulate a room's atmosphere and enhance the overall look and elegance of your room.