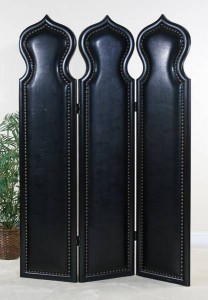 The 'Great Divide'  is a mini-series that will present the many benefits of room dividers, discuss how you can incorporate them into your home's design and show you a couple of great options to choose from.
As it is the largest sporting event in the world, it would be safe to assume that you know about Spain winning the World Cup last month. In the event you missed that tidbit, now you know.
So why not kick this string of articles off with a bit of a tribute to the Spanish team by featuring the Madrid Black Patent Screen by Ultimate Accents.
Room dividers can serve a much-needed purpose or play a purely artistic role in our home. They have proven to work well in both capacities.
Smaller living spaces can benefit more from a room divider's utilitarian features a bit more than larger spaces. Apartments or lofts where the space is undefined and rooms seem to flow into one another are truly where some room dividers shine the brightest. They could be called room creators, since creating rooms is exactly what they are doing in these situations.
The Madrid Black Patent Screen by Ultimate Accents is a great choice if you have a need for a room divider that would actually be used for creating a sense of privacy. It's solid panels and opaque design is effective in actually dividing an area and establishing two individual spaces.
This room divider was designed to resemble architectural elements of old-world Europe. It is striking enough to capture attention, yet it is modest enough to not overpower the design of your room.
Be sure to check back next Tuesday for the next installment of The Great Divide.