Why bother paying a shipping company, or local service to assemble your furniture when you can easily do-it-yourself with a little help from Homelement Online Furniture Stores. Most of the furniture that Homelement sells comes pre-assembled or requires very little set up. We provide helpful and easy to read online assembly instructions for a large number of our products; most product instructions are found effortlessly on the product's main page with more added on a daily basis.
Larger items such as dining room tables require much less assembly than you would think.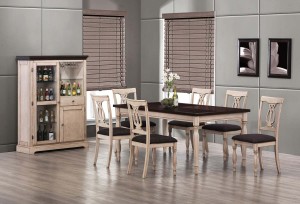 The antique white and merlot Coaster Camille Dining Table, accented by ash veneers, only asks that you attach the table legs to the table base.
The intricately designed drop leaf, Coaster Lavista Dining table, warrants simple assembly as well. This beautiful hardwood and mango veneer table requires you to attach both connector panels to the table legs and then subsequently attach the table top to the table legs. As a last step you attach the bottom rail to the table legs and slide the left and right side of the table top apart and insert the leaf, completing the process. In just a few steps, you will have this gorgeous table ready for use.
Coaster is not the only brand that Homelement offers with nearly effortless assembly. Homelegance products are ranked as customer favorites for their high quality craftsmanship and hassle free set up.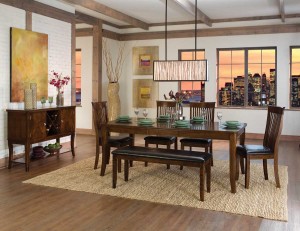 The Homelegance Alita Dining Table, a strikingly elegant, yet contemporary look with warmed cherry and patterned veneers requires minimal set up. For a finished product, just connect the frame of the table top to the legs and insert the table top.
The Homelegance Daisy Dining Table with Glass top, entails even less assembly, and arrives at your home almost completely assembled. The instructions ask that you unscrew the table base from the legs and connect the table shelf to the table legs; the last step is just to reconnect the table base to the legs.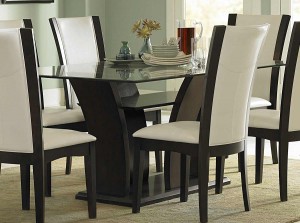 Nearly all of the dining tables sold by Homelement only require a few steps to assemble, despite variance in brand.
Legacy Classic's Portland Pub Set asks that you attach the first pedestal to the second, and then attach both to the base. Once completed, all you need to do is attach the mounting plate to the fully assembled base and you are ready to serve your guests. The luxury of owning a high end dining table is essentially hassle free and brought to you at an affordable price.
Homelement updates our website with new assembly instructions every day. If a product's online assembly instructions are not on the main page yet, just call Homelement at 800-996-8221 and speak with any one of our helpful customer service representatives who can provide you with the information.