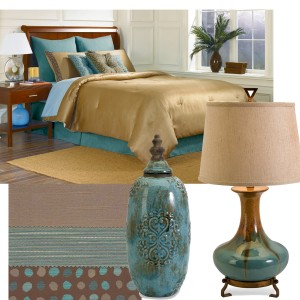 Turquoise is one of the few colors that allow adults to express their lighthearted side (and still feel like adults when the decorating is complete.
In the purest sense of the word, turquoise is an opaque mineral, whose colors naturally range from blue to green. Inspired by the jewelry and other ancient uses of the mineral, designers settled on a more consistent blue-green to represent turquoise for modern color palettes.
The vibrant nature of turquoise, paired with its ability to pair well with subtle earth tones makes it suitable for both contemporary and traditional designs.
Looking for a few ways to incorporate turquoise into your home?
Turquoise's cool nature, similar to water, makes it a fitting option for bathrooms. Consider turquoise tiles and a chocolate brown combination.
Decorating large areas with  turquoise can be tricky, especially if you're not absolutely committed to the color. So, ease into it with turquoise accent pieces like the Tall Caspian Jar by Max Accents and the Kirkly Ceramic Table Lamp by Max Accents.
The bed, naturally being one of the largest canvases in the bedroom (second only to the walls), is a great way to infuse a large amount of turquoise into a room without going overboard. Consider the Camel Back Bedding by Southern Textiles, which incorporates the colors paired with both complimentary patterns and solids.