Although it's nice to go out to enjoy entertainment and beverages at a local bar or sports lounge, why not enjoy the same ambience at home? In the long run — once you subtract the cost of gas, expensive drinks and greasy finger foods from the menu — you might save enough money to pay a brand new home bar. Whether you want to enjoy a quiet time at home or would like to entertain guests, you can find a bar set to suit your tastes and budget. Or you can mix and match the various pieces such as barstools, bars and tables if you're after a more eclectic design.
And you don't even have to leave your home to shop for your bar furniture – you can visit a trusted online at retail furniture site, such Homelement.com, the Online Furniture Superstore. You might even find some deals that include free shipping! At Homelement.com you select bar furniture from the world's top manufacturers including Abbyson Living, Butler, Armen Living, Chintaly Imports, Coaster, Global Furniture USA, Hillsdale, Home Styles, Homelegance, Padma's Plantation, Powell, Pulaski, Rustic Cedar, Traditional Accents, Ultimate Accents, Wholesale Interiors and Zuo Modern.
For the Casual Lifestyle …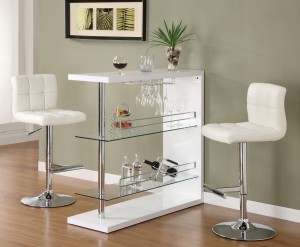 If you want to create a casual home bar that's attractive yet affordable, you find a bar set for less than $500, such as the sleek, contemporary Coaster 100167 Steel Bar Set available at Home Element. The handsome new bar unit comes with two glass storage shelves and a wine glass holder. Its beautiful gloss white finish with chrome accents make the Coaster 100167 Steel Bar Set an appealing addition to virtually any modern living space. Two plush cream-colored bar stools complete the set.
Each piece (the Steel Bar Set and stools) are also sold separately.
Or with Style & Elegance Fit for a King or Queen…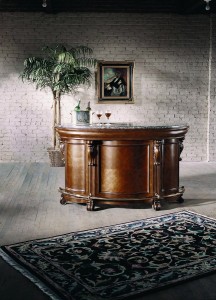 If you want to bring a dash of elegance into your home, consider the lavish Pulaski Edwardian Bar Collection.
This heirloom-quality set, with its distinctive cabochon crowned bonnets, scrolled pilasters and beaded mouldings, offers you the opportunity to relax and entertain in a style befitting Edwardian Era aristocrats.
This gorgeous new bar set features Edwardian finish, laminated marble top, inset stone pull-out cutting surface, four utility drawers, wine glass storage racks, wine racks, adjustable shelf located behind a lockable door and brass-plated foot rail.
For more great ideas on bar sets, bar stools, bar tables and other home bar accessories, visit Home Element, the Online Furniture Superstore – be sure to check out the free shipping specials!