Homelement makes it incredibly easy to have furniture delivered directly to your home that boasts hassle free assembly. Most of the furniture we sell can be put together in just a few steps, allowing you to avoid the often expensive in home delivery charge for set up, provided by shipping companies, or local services.  Homelement is an authorized dealer for numerous manufacturers that craft high quality bedroom collections in varying well-designed and modish styles. Customer brand favorites such as Homelegance, Coaster and Hillsdale Furniture create impressive and elegant pieces that will embellish and add a special splash of style to your bedroom décor.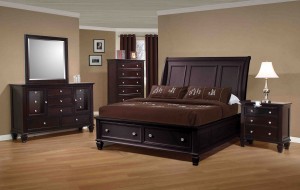 The Coaster Sandy Beach Collection is crafted from maple veneers and complimented by a cappuccino finish, accented through clean and straight lines. You can have this storage bed, with dovetail drawers and full extensions glides ready to sleep on in a just a few simple steps. You just need to attach the headboard panel to the right and left headboard legs and then attach the headboard bottom rail to the headboard legs. Once complete attach the rails to the headboard, and then the foot board to the rails. As a last step, attach the center rail to the side rails, insert the bed slats and the process is concluded. The Coaster Sandy Beach Night Stand, Dresser, 5 Drawer Chest, Media Chest and Sliding Door 8 Drawer Chest require even simpler assembly. For these large items, just attach the drawer knobs!
Coaster's Sandy Beach Bedroom Collection
is not the only items Homelement offers with easy assembly. The Coaster Phoenix Bedroom Collection, fashioned from solid hardwood, with maple veneers only asks our customers to align and fasten the headboard legs to the headboard, then align and fasten the head rail to the legs. Once accomplished, insert the arch leg-support rails in to the arch legs and align and fasten the rails in to the arch legs. To complete attach rails to headboard, and foot board to rails, and then finish up by connecting the bed slats to the center rail. The Coaster Phoenix Nightstand, Dresser, Chest, TV Dresser and Man's Chest are all have metal on metal glide construction. These pieces only ask that you attach the brushed nickel finished, metal drawer knobs.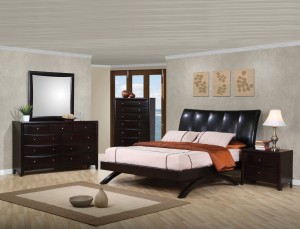 Shop Homelement today and find the perfect bedroom collection that will invite style in to your bedroom, all at an affordable cost with hassle free assembly.