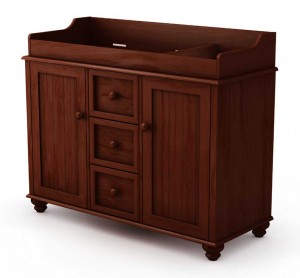 Whether your young one is already here or is on the way, there are a few things that are going to be necessary. One of which, is a changing table.
Is it possible to do without one? Sure, it is. Humans have been reproducing long before changing tables came around. Is it recommended you go without one? Hardly.
What I am recommending, however, is that you find a changing table that is of quality construction and enhances the look of the nursery. This is especially true if more additions to the family are expected in the future.
A great changing table is one that has a split layout across the top for the baby to lay on one side while the diaper, wipes, etc. for the current changing session are accessible to you and out of the baby's swinging, kicking and potential soiling reach.
One to look for also has sturdy support between the baby's mattress pad and the cabinet space beneath it.
There are numerous arrangements of drawers, open spaces and cabinets and whichever you choose is solely based on your preferences. I suggest one that has open space right below the mattress pad for quick access to towels, etc. (just in case a surprise should occur).