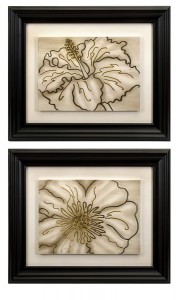 Empty, bare walls should be considered a crime. To have such large, expansive canvases (also known as your walls) with nothing other than paint on them does your home an injustice.
All the hard work put into decorating your home has been belittled by the oversight. However, it's never too late to incorporate art into the home.
Adorning your home with art doesn't have to be unreasonably expensive or restricted to hanging on walls. It just needs to express some form of creativity and give your home a feeling of individuality. Well-selected and well-placed art is what separates static magazine spreads from livable homes.
Decorating with art shouldn't be a difficult undertaking, but sometimes you need a bit of inspiration. Here's a few ways you can incorporate art into your home:
Make a small room feel much larger by hanging a big landscape scene with a distant horizon. This will make the room feel more spacious.
A cold, bare area can be warmed up with art depicting the countryside, vases featuring pastoral patterns or furniture upholstered with toile.
A narrow space can seem expanded by hanging a vibrant print on a wall painted a dark, rich color. Hang a custom-framed mirror on the wall opposite the print. The reflection will immediately make the room appear larger.
Tricks like these make art serve a purpose other than enhancing the beauty of the space. Experiment with other arrangements until your home is a work of art on its own.