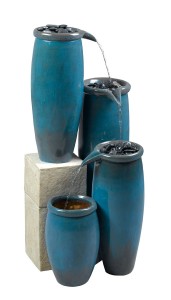 Have you ever noticed that on the days when you are the most parched, it only takes a little bit of water to make a world of a difference. Although any beverage would do the trick, there's nothing like the effects of water.
However, this concept can be applied to more than just issues of thirst.
The Agua Indoor/Outdoor Floor Fountain by Kenroy Home provides that same refreshing effect for your home and its design.
Flowing water is known to have very tranquil and relaxing effects. Being able to control this flow and incorporate it into your home is a powerful ability to have.
These four tall pots have been glazed and coated in a charcoal and Cerulean wash.
These four vases vary in size and volume, which draw the eye and adds contrast to your home's decor. The water trickling over the polished stones will instantly relax and mimic the qualities of a babbling brook.
Unlike brooks and other bodies of water, the Agua Indoor-Outdoor Floor Fountain easily manages smaller amounts of water that can be enjoyed inside or outside of your home. This fountain really proves how a little water really can go a long way.