That's right. There were just so many affordable ways to update the design of your home that we decided to show you a few more. You can check out How to Spend $250 on Design – Part 1 for more ideas.
Keeping the target price at $250 on this time around, here are some more ideas to consider:
Transform the Cabinets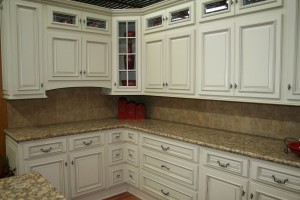 Kitchen cabinets, aside from large islands and counter space, represent a significant portion of the kitchen. As a result, any change to the cabinets means a noticeable impact on the kitchen's overall look.
An affordable way to update your kitchen's design is to repaint or re-stain the cabinetry to brighten up faded colors. Looking for more of a transformation? Paint or stain the cabinets a completely new color or finish.
Top off the redesign with completely new hardware. New pulls, knobs and handles will make it seem as if you've purchased brand new cabinets.
Flea Market Finds
Flea markets are great for budget shopping, as people are usually looking to get rid of pieces they no longer have use for. New pieces inevitably cost more because manufacturers are looking to get as much return on their product as possible.
When working your way through flea markets, look for items that are sturdy, durable and can be affordably updated to your taste, if necessary.
More often than not, vendors at flea markets want to sell their items more than buyers want to buy them. Keep this in mind when it comes time for negotiating.
When making an offer, start low enough to give yourself some negotiating room, but not so low as to offend the seller and have them lose interest in you completely.
It pays to get there early in order to have a shot at quality items before they're picked over. However, the later in the day an item is still available gives you negotiating power because the item obviously isn't commanding the level of interest a buyer would like if it is still available at that price.
Lighting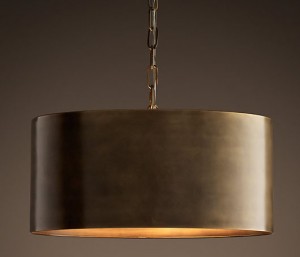 Lighting is one of the many elements of a home that a builder puts the bare minimum into. The builder is simply trying to complete the project as inexpensively as possible in order to maximize profits. But he doesn't have to live there. You do. So take $250 and break away from the basics.
Now, it goes without saying that all lighting is not created equal and not all lighting can be considered "affordable". If you look hard enough however, you can find some gems that will truly elevate your space.
Consider the Antiqued Metal Drum Pendant Light from Restoration Hardware. A light like this can truly transform the look and function of a dining space. Other options like flush mount lighting is typically more affordable. Check out the Alice 3-Light Island Light by Kenroy Home. It's a great solution for brightening up the workspace in the kitchen.
—
So, that's it. We've covered an abundance of ways to update the design of your home. The upside is that they are all relatively affordable. If you've been wanting to change a look or two in your home, but were intimidated by the potential cost or labor  involved, hopefully this series of posts will inspire you to get started.