In continuing our series on reasonably-priced design ideas, we're going to show you a few more ways you can turn a $100 dollar bill into improved design for your home.
In the first How to Spend $100 on Design, we covered adding a bit of visual interest to walls by incorporating framed panels and wallpapering feature walls.
Scroll below for even more design tips that are easy on the wallet.
Chalkboard Wall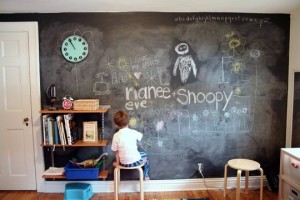 For parents of small children, turning one or more of your home's walls into chalkboard walls is such a great idea. While chalkboard paint isn't exactly a new product, it is still undervalued as a way to seamlessly merge design and function.
Finding out that your child has drawn on the walls is a nightmare for many parents. Chalkboard walls come to rescue by providing children with an outlet to express their inner Picasso without causing costly damage to your home. Chalkboard paint lends itself well to feature walls in children's bedrooms.
Believe it or not, chalkboard walls aren't just for children. Creative ways to use chalkboard paint include painting a broad vertical strip of a wall in the kitchen. These can be used for the family to contribute to a grocery list or to leave important dates, messages and notes to other members of the family.
Shadow Boxes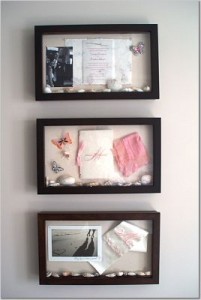 Not familiar with shadow boxes? Look at them as 3D scrapbook pages you can probably display throughout your home.
Kits for shadow boxes can be found in most hobby and craft stores. These starter kits are extremely beneficial if you're not the DIY-er that  wants to construct boxes from scratch.
If that is your idea of fun, boxes can be constructed of a variety of materials included distressed woods, metals and more.
Shadow boxes work well with themes. Children's achievements in sports, academics or personal can be beautifully cataloged with these visible displays. Family moments like vacation photos and treasures become personal works of art.
Bold Lamps
Let your room's source of light also serve as a source of bold design.
Lamps have a tendency to be no more than a light source and when they are acknowledged, it's usually the lampshade that gets all of the attention. If you're willing to take on a small project, however, you can convert a cheap, old lamp into a functional works of art.
If you don't have an old lamp on hand that you would like to convert, go out to local flea markets or garage sales and find a lamp with a base whose shape fits well within your home's design.
To give it the bold new look that will transform your space, paint the base with a high-gloss enamel spray paint (masking off necessary areas) and completing the update with a new lampshade that compliments the color of the base.
—
As we've shown in this series, it doesn't take a lot to make an impact on your home's design. With a little inspiration (a lot of which can be found in these articles) and some elbow grease, your home can take on an entirely new look without you having to take on any major expense.